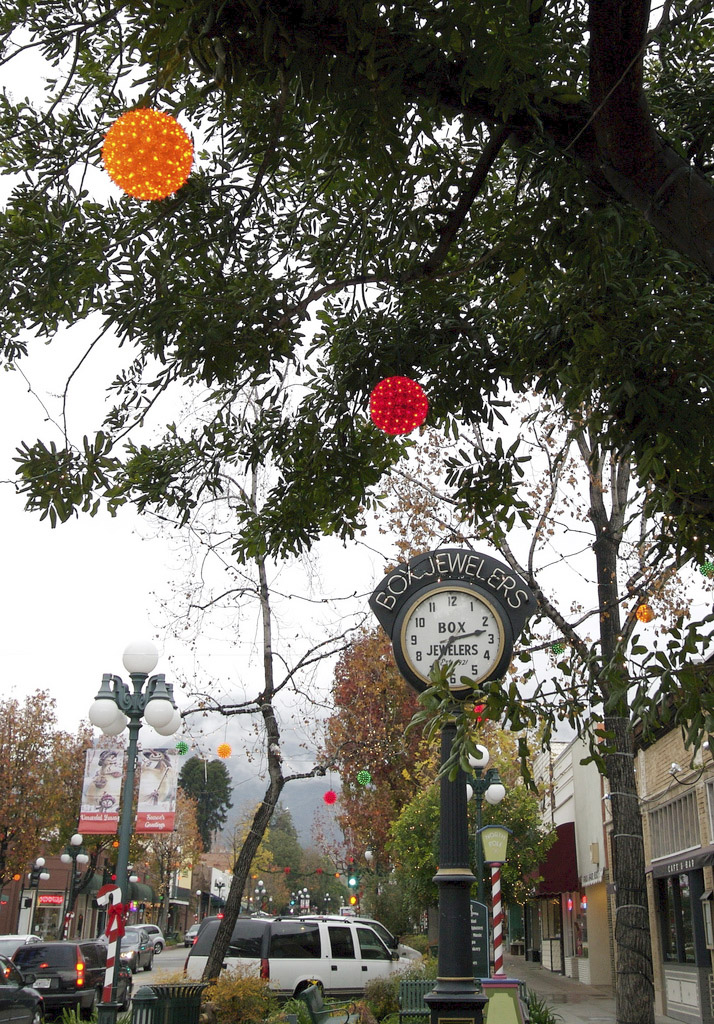 Downtown Monrovia is just a short walk from the grounds of Monrovia Memorial Hospital.
Monrovia is known as the "Gem of the Foothills" and not only has a small-town charm popular with Hollywood filmmakers, but it has a thriving high-tech corridor concentrated on Huntington Drive. Monrovia residents number nearly 40,000, many of which regularly visit the city's vibrant "Old Town" where local merchants take pride in a well-kept and vibrant community.
The City of Monrovia is located in the San Gabriel Valley portion of Greater Los Angeles County, in Southern California. It is one of several "foothill" cities nestled at the base of the sunny San Gabriel Mountains, which are popular with hikers for their natural beauty.
Old Town Events & Places to Stay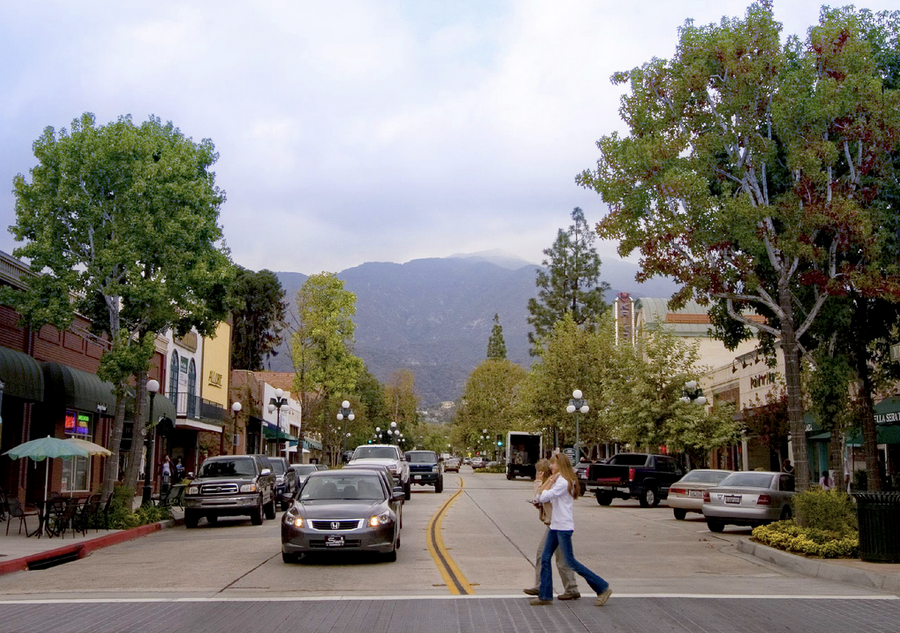 Old Town is where the entire region comes for shopping, dining and entertainment in a unique atmosphere. Every Friday night, from March through to Christmas, thousands of residents and visitors alike mingle at the largest street fair of its kind in the state, with craft and food booths, kiddie rides, a certified farmer's market, live music and more. 
Myrtle Avenue's shops and restaurants, it's 12-screen movie palace and its small-town ambiance, combined with plenty of free parking, draw shoppers and diners alike. But small businesses thrive above the shops as well, and people live in condos and flats within Old Town, making it a living community, a safe and people-friendly neighborhood.
In the midst of Old Town Monrovia is Library Park, with its new 28,000-square-foot Public Library, band shell, playground, fountain, shaded walkways, specimen trees and veterans memorials. Library park is only steps from two different ice cream shops, and is a welcome place to relax and enjoy on of the many sunny days that are the hallmark of this area.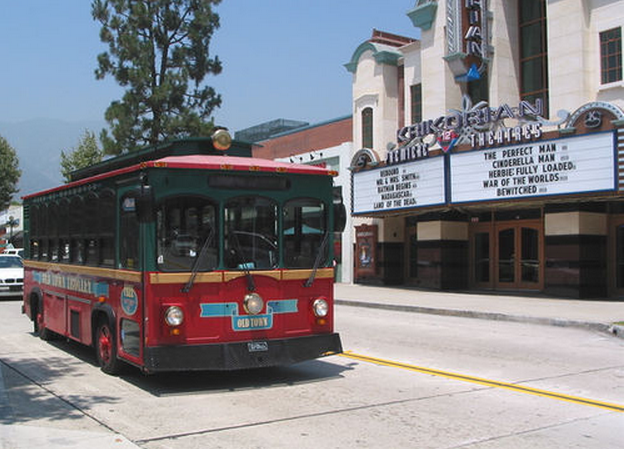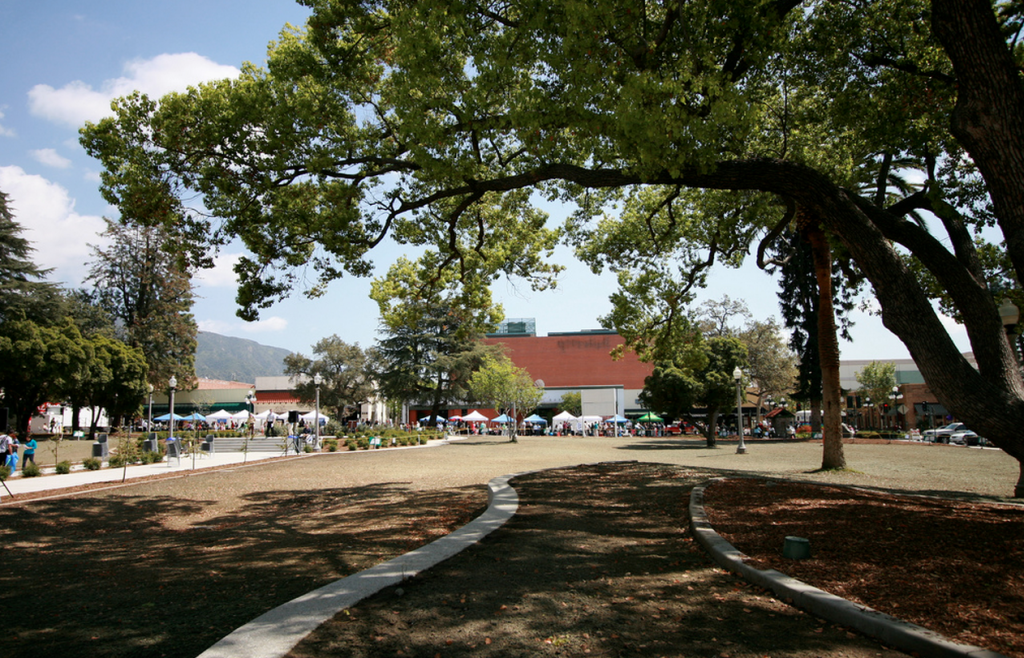 For those needing lodging, Monrovia is home to several hotels, including the Courtyard Marroitt, The Double Tree, Homestead Studio Suites and more.  For a list of hotels, please visit the City of Monrovia's website.
If you need a local flower shop, we recommend Monrovia Floral.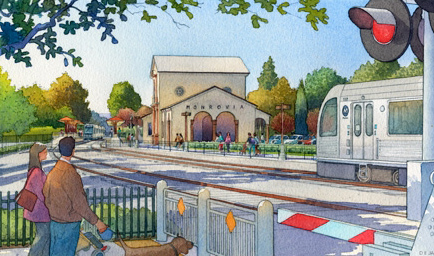 Monrovia city officials have long been focused on making their city safe and friendly to visitors, and this is evident when you visit Old Town. Town planners are keen on keeping the city's historical charm intact, while at the same time looking toward the future in terms of key developments that will ensure the future satisfaction of visitors and residents alike.
Monrovia is next in a series of cities to see the opening of a new train station that will connect it with the existing light rail system that is under active development throughout Los Angeles, and will be part of the  metro's "Gold Line." The train station, once completed, will be built around the historic Monrovia Depot building that currently stands at Myrtle Avenue and Duarte Road.
For more information about the timetable to for the opening of the Monrovia Train Station, please visit the Metro Gold Line website.