The Respiratory Therapy Department at Monrovia Memorial Hospital understands how vital healthy breathing is to your quality of life.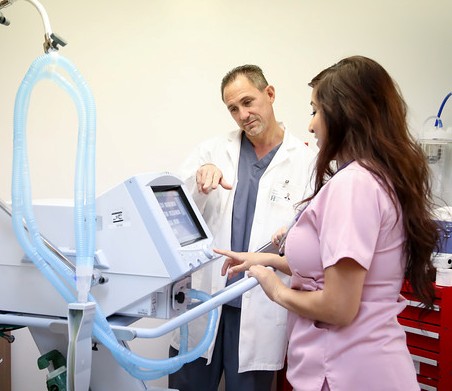 Breathing is life. You deserve the very best care available, provided by certified respiratory professionals. Our Respiratory Team at Monrovia Memorial has the skills, certifications, compassionate approach and pulmonary technologies to get you breathing better.
In addition, we have been awarded the "Quality Respiratory Care Designation" by the American Association of Respiratory Care. We are proud to be recognized by this national program which ensures patient safety by adhering to a strict set of criteria governing our respiratory services.
More detailed information on general respiratory services can be accessed at: http://www.yourlunghealth.org
Our therapists are here to serve our patients 24 hours a day, seven days a week, offering a broad range of diagnostic and therapeutic services including:
1

Ventilator Management

2

Non-Invasive Ventilation

3

Arterial Blood Gas Laboratory

4

Tracheotomy / Endotracheal Tube Management

5

Respiratory Medication Administration

6

Oxygen Therapy

7

Pulse Oximetry Oxygenation Monitoring

8

Patient Respiratory Evaluations

9

Pulmonary Secretion Management

10

Aerosol Therapy

11

Airway Management

12

Patient/Family Education